Bali hut thatching gazebos are beautiful and have an exotic look. They conjure up romantic images of that last Indonesian holiday.
However, this romance for Bali huts/gazebos will last a few short years until the alang-alang thatching starts to deteriorate. The harsh Australian weather and the local bird population will start to thin the thatch roof.
Throw in a few extremely windy days, and the exotic Balinese hut starts to look messy. Add another couple of years, and the thatching starts to look thin, and leaks start to materialize. What's the solution?
Not to worry – replace the Bali huts gazebo canopy. After a couple of phone calls and quotes, you start to realise it will cost over $3000 to replace the Bali hut thatching like new. All romance has now gone and is replaced by resentment and nagging by your partner to do something about that "Bali huts roof".
Bali Huts Thatching Alternative
A smarter gazebo roof option is American asphalt roof shingles. Shingles come in either classic slate look or popular wooden shake style. The Cambridge (wooden shake) shingle has a real rustic look but even better comes with a Lifetime manufacturer's warranty.
Unlike a fragile Bali hut, a shingle roof will withstand everything Mother Nature can throw at it, including hail and extremely high winds. The plywood base becomes a super strong canopy and will support the roof frame.
Installation of Bali Huts
Installation of your new shingle Bali hut roof is easy and we have home handymen completing beautiful shingles Balinese huts in a weekend.
As a result, a shingle roof is a cost-effective solution with a basic 4 x 4-metre gazebo kit costing well under $1000. This includes A-Bond "marine grade" plywood, premium synthetic roof underlay and the asphalt shingles.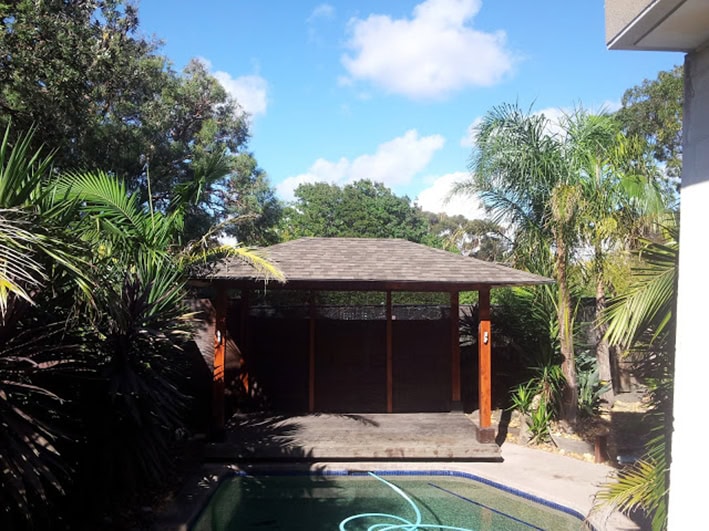 We send gazebo kits all around Australia daily. Consider lightweight and long-lasting asphalt shingles and be rewarded with years of worry-free backyard use. Now that's what I call "romantic". Call the Gazebo Roof Specialists for advice and a free quote.
Contact us for a free quote