A do-it-yourself roof installation can be a very rewarding exercise and just requires a little bit of planning. We have everyday Australians following our roof building guide achieving great results.
Not only do you end up with a long-lasting (40 Years+) roof but asphalt shingles require absolutely no maintenance. DIY roof installation for a shed roof, outdoor gazebo roof, pitched carport or pergola roofing can save you thousands of dollars.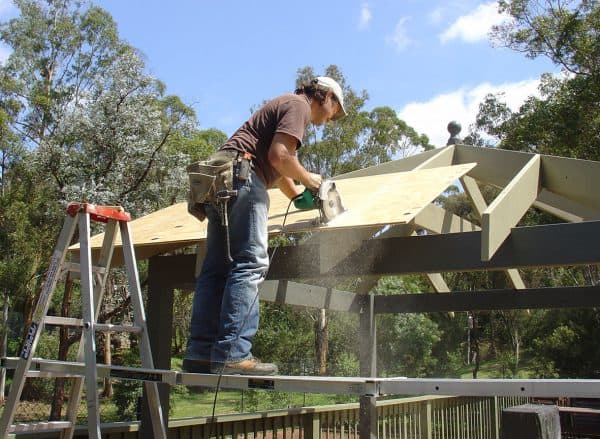 Roof installation Do-it-yourself guide
Our four-part roof installation guide provides all of the information for you to build a shingle roof. This includes detailed instructions from installing the A-Bond plywood, underlayment, and shingles.
This step-by-step build guide includes written instructions, drawings, detailed photos, and videos. Our professional shingle roofer will show you the build process right from ordering the materials to nailing the last capping piece in place.
Our roof installation guide assumes that the outdoor roof frame has been built. This can be a new pergola or replacing old Bali thatching. This same technique applies to gable carports, garage roofs, and covered patios.
Can you build your roof safely?
When it comes to installing roofs your safety is the most important factor.
Having a steady work platform is a great start. Make sure the area surrounding your outdoor roof is clear from obstacles is important. Never work on a wet slippery roof and keep the roof clean from shingle granules and dirt.
Soft rubber-soled shoes (Sneakers/runners) are the best as they provide the best grip. Finally, some common sense doesn't go astray.
We were a little hesitant building our shed roof with the asphalt shingle roofing system. However, after speaking to Richard at Gazebo  Kits & Pergola Roofing and taking a look over the how to install roof guide we decided to give it a go. On the Saturday we installed the plywood sheeting which was fairly straightforward. On Sunday we installed the synthetic underlay and shingles and by mid afternoon it was complete. I recommend more people use roof shingles for their outdoor roofs.
Long-Lasting and Maintenance-Free Shingles
Probably the most desirable aspect of our do-it-yourself shingle roofing is the 30-Year Warranty for the Marathon shingle and a Lifetime Warranty for the Cambridge shingle.
Once installed, you have a maintenance-free roof that will last many decades. Our customers replace wooden and thatched roofs regularly as they tend to deteriorate very fast and the replacement cost is expensive.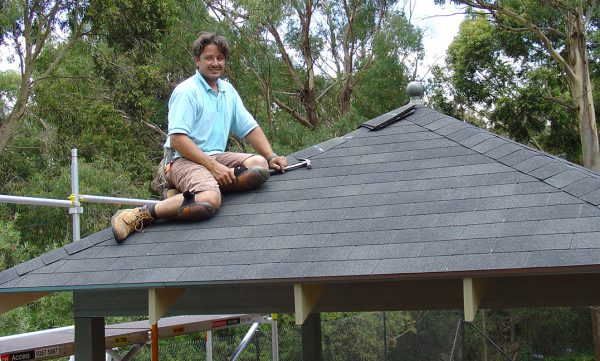 Materials Required to Build your Roof
Our roof build calculator will work out your exact shingle materials requirements.
For the framing details including a list of materials try this extremely handy program – Blocklayer roof build calculator.
Within Blocklayer you can choose a gable roof, hipped roof, adjust the pitch, overhang, etc. It will provide you a detailed set of plans including the list of materials needed to build your outdoor roof. Perfect roof installation list and plans for shed roofs, pergola roofing, covered patios, all outdoor roofing projects.
Roof Installation Expert Advice on Call
Call Gazebo Kits & Pergola Roofing to get a delivery price and pickup is also available. Our roofing professionals are available during the build for advice. Having an expert explain the roof installation provides peace of mind and confidence.