Outdoor Gazebo Asphalt Shingle Installation
PART 1
We now know the benefits of a shingle roof system for your outdoor gazebo. They are lightweight, easy and quick to do, and cost-effective as it carries a 30-40 years manufacturer's warranty and can be done by yourself. So now we go to the installation.
Before starting, please refer to the best practices in installation.
Now let's proceed to the step-by-step guide on how you can build your outdoor gazebo with asphalt shingles.  You can use the same steps and techniques when installing a garden gazebo, a shed, pergola, patio, garage, and even your home. When we ship this out, it comes in an outdoor gazebo kit complete with the necessary roof materials ready to use.
Calculations / Measurements
To calculate the materials needed for the job, we need to have detailed measurements. Asphalt shingles generally come in bundles of 21 pieces and cover three square meters (3m²).
1. You will need to calculate the total area of the roof.
2. Calculate the total length around the bottom edge.
3. Measure the combined total length of the hips and ridge.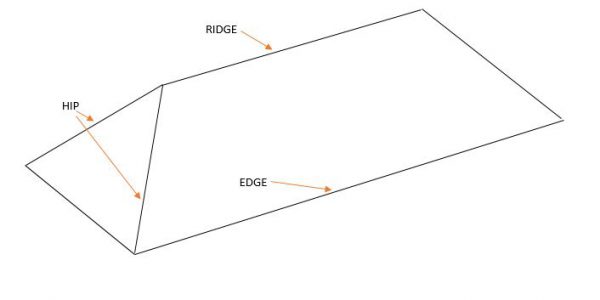 #1 will ascertain the number of sheets of plywood needed. The measurement of a standard sheet of plywood is 2400mm x 1200mm. Each sheet has coverage of 2.88m². When making an estimate, there will typically be about 10% wastage.
This calculation also determines how much asphalt-impregnated roof felt that will be needed, taking into account a 10% for wastage. (more about roofing felt as you read on). This also shows part of your requirement for asphalt shingles.
Calculation #2 determines how many metres of starter course and metal drip edge that your roofing project will require – a bundle of asphalt tiles has 21 lineal metres of the starter course. (More details later).
Calculation #3 determines how many bundles of asphalt tiles needed for the hips. A bundle of asphalt tiles has a coverage of 8.8 lineal metres of hips (or ridge).
*TIP "The plywood used is 12mm Structural A-bond, d-face/d-face tongue & groove plywood AS-NZS 2004 – 2400mm x 1200mm. AUSTRALIAN MADE"
Tools Needed for your DIY Outdoor Gazebo Roof Project
Hammer
Hook blade knife
Long straight edge
Chalk line
Spirit level
Basic blade knife
Circular saw set to 17mm deep cut
15-20mm shank galvanized clout nails with a 10mm head
2 power cords
Compressor with framing gun (not necessary)
Tin snips
Measuring tape

Outdoor Gazebo basic frame | rafters at 600mm centres

Before the actual project, you need to run a straight edge over the rafters to make sure that they are all level.  Otherwise, you need to use a plainer to take some off the tops of the rafters. This is important because asphalt shingles are very flat and any difference in the rafter height can be easily seen in the finished roof.

*TIP "In this Outdoor Gazebo, The space of the rafters were approx 680mm centres. It is recommended that the rafters be spaced at 600mm centres (or the centre point from rafter to rafter) to maximize the use of the plywood and would need less cutting".

Outdoor gazebo platform at a good height for roofing

Make sure you have set up adequately when working on your roof project such as shown above where I am on a basic plank between two ladders.

Pitch

This roof has a pitch of 25 degrees.  Take note that the minimum pitch for asphalt shingles is 9.5°.

With a pitch between 9.5° and 18.5° pitch, it is necessary to use a special waterproofing barrier such as IKO Armourguard, an adhesive-backed rubberized membrane roll.  Likewise acceptable is to use a double layer of asphalt-saturated felt material.

Between 60° pitch and vertical (steep-slope) remember to self-seal each tab of the asphalt shingles.

*TIP "When your roof is designed with steep slopes, or you are in an area with high winds, remember to apply a small dab of tar under each tab. This prevents blow off."

Check that the plywood's bottom edge is flush with the fascia

At this point, you have to check that the plywood's position so that it is flush to the outside edge of the Fascia board. As per manufacturer's guidelines, I am spanning the plywood the long side horizontally. Always try to stagger the sheets of plywood because it makes the roof stronger.

*TIP "Butt the tongue and groove ends of the plywood tight together but leave a 2 – 3mm gap on the short sides to leave room for any expansion the plywood may have."

Nailing the first sheet of plywood securely into place

Once you have placed the first sheet of plywood, hammer in a couple of nails to secure it in place. Be careful though not to hammer the nails where you are likely to cut the plywood, such as on the end rafter or down the hip.

*TIP "Plywood will usually have a stamp on one side with 'A-Bond AS/NZS 2004….' it is recommended to lay this side facing up with all sheets for a clean underside and easier joining".

Snapping a Chalk line for cutting up the centre rafter

For a clean straight cut, snap a chalk line on the centre of the rafter. Next, you measure the blade on your circular saw to cut exactly to the depth of the plywood and thus avoid any mistakes.

Cutting the plywood up the centre of the rafter carefully

Once you have drawn the chalk line, you can now neatly cut straight up. When applying waterproofing chemicals, please bear in mind that some of the waterproofing chemicals in plywood are known to cause cancer so it is important to use a basic mask.

Sweeping the sawdust off the gazebo deck

As a safety precaution remember to keep the top of the plywood clean as sawdust on the plywood is very slippery. We have laid the foundation of a fantastic deck that you can walk on the plywood as much as you like. There will be no denting the metal roof nor cracking tiles on this outdoor gazebo.