Gazebo kits, covered patio & pergola roofing made from American shingles provide the perfect solution to build new roofs and replacement roofs alike.  Fixed gazebos are roofed structures that offer a 360-degree view of the surrounding area. Suppose your idea of enjoyment is breathing the fresh air and spending quality time outside. In that case, a covered outdoor living area, including gazebo kits, should be high on your wish list.
Gazebo Kits
An outdoor living area is a perfect place to slow downtime and relax. Fixed gazebos, a pergola with a roof or a covered patio all protect us from Australia's harsh elements. Pull up your favourite chair and let nature take away the stresses of the day. DIY gazebo kits can become a focal point in beautiful outdoor living areas.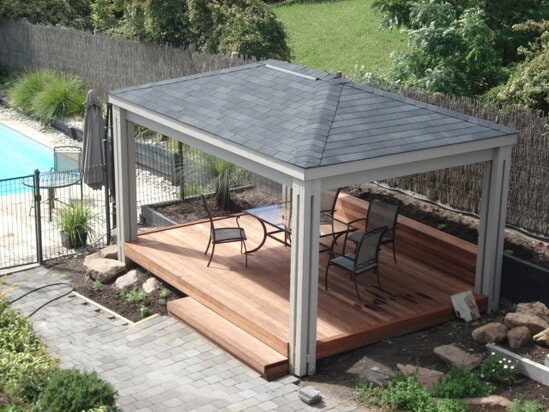 Entertaining Guests
A covered patio, fixed gazebo kit, or pergola roof can provide the perfect area for entertaining your guests. This outdoor living area will become a focal point for your gardens where you can soak up the view.  As a result, our asphalt shingles are a fantastic option supplied as DIY pergola roofing, a patio roof, or gazebo kits.
An outdoor gazebo kit, a patio roof or DIY pergola kit for sale
When purchasing a new patio roof kit, DIY pergola kit, or fixed gazebo kit, a vital consideration is the gazebo kits price. The size and material choice will influence the gazebo cost, patio roof cost, or pergola kits price.  Use the price chart below to explore our gazebos kits for sale.
Gazebo Kit Prices for Sale
ROOF SIZE
Gazebo kit cost
GAZEBO ROOF COST
Marathon Shingles
& Underlay
GAZEBO ROOF COST
Cambridge Shingles
& Underlay
17mm A-Bond
STRUCTURAL Plywood
(BY OTHERS)
3m x 3m
@ 25 degrees
$570
$610
$330
3m x 4m
@ 25 degrees
$673
$723
$461
4m x 4m
@ 25 degrees
$865
$1025
$593
4m x 5m
@ 25 degrees
$1060
$1240
$758
5m x 5m
@ 25 degrees
$1255
$1355
$922

5m x 6m
@ 25 degrees
$1453
$1763
$1120
6m x 6m
@ 25 degrees
$1740
$1980
$1317
Gazebo Kits for Sale
Call for a free quote
Delivery Australia Wide
Expert Advise
Check out our gazebo kit prices and compare to the other roof options. Our gazebo kits for sale are very cost effective with the longest warranties available.
To obtain a more detailed roof kit cost, patio roof or DIY pergola roofing price use our Gazebo Kit Calculator. Within this calculator, you can include the roof overhang, change the pitch, and adjust lots of other options for detailed pricing.
DIY Pergola Kit a Patio Roof or Gazebo Kit with American Shingles
Our American shingles are long-lasting materials made to resemble the natural beauty of Slates and Timber shingles/shakes. In contrast to Slate or Timber, shingles require no maintenance for a lifetime.
As a result, shingles are incredibly cost-effective, far cheaper than other roofing options. They are even up to a third of the price of other alternatives.
Furthermore, shingles are fast and easy to install, and therefore an excellent do-it-yourself solution.
Calculate Materials Easily with our Online Roof Calculator
Email the measurements of your fixed gazebo, patio roof, or DIY pergola roofing. We will provide you with a quote for the materials required to complete the job. If you need help with the measurements, one of our team will be happy to be of assistance.
You can also use our handy Fixed Gazebo Roof Calculator. Enter the details of your fixed gazebo, and it will work out how many bundles of shingles and synthetic underlay you require. We stock a full range of profiles and naturally inspired Colours which can be sent anywhere in Australia quickly.
Lightweight Gazebo Kit
We can send our gazebo kit roofing around Australia due to the lightweight and compact nature of the shingle kit. Destinations include: –
Brisbane QLD,
Adelaide SA,
Perth WA,
Tasmania TAS,
Northern Territory NT.
DIY pergola roofing, covered patio & outdoor gazebo kits
An inexpensive fixed gazebo kit roof option. Considerably less expensive than most outdoor gazebo alternatives.
Can replace thatch, cedar shakes, tiles, metal, and virtually any roof material.
The straightforward installation requires no experience.
No maintenance required. (No sweeping up Bali thatch or oiling/staining cedar shakes)
Long-lasting with 20 – 40 year International Warranties.
Insulated plywood panels that dissipate heat very quickly.
Suitable for pitches above 9.5 degrees (lower achievable).
Suitable as a wall cladding.
Super strong gazebos with exceptional bracing achieved with the plywood base.
Lightweight gazebos kit system, weighing approximately 19kg/m2.
Similarly, fixed outdoor gazebos, a patio roof & DIY pergola kits are easy to send around Australia.
Custom made to order.
Greatly Improved sound-proofing qualities.
Available in natural styles, resembling slates and wooden shakes.
Shade providing. Protection from Australia's hot damaging sun.
Suitable for gazebos, pergolas, patio roofs, sheds, garages/carports, and Bali huts.
To measure your fixed gazebo, patio roof, or DIY pergola roofing, here is a great program.
Gazebo kits, covered patio, and DIY pergola roofing are the proud Australian distributors for IKO Corporation, the largest exporter of shingle materials worldwide. As a result, we have been in business for over 15 years, experts in the supply and installation of asphalt shingle materials. Due to this experience, we have supplied thousands of customers with their roofing requirements.
Fixed Gazebos, Bali Huts & DIY Pergola Kits Supplies Sent around Australia
We supply custom fixed gazebos, patio roof options, and pergola kits to build new or replacement roofs. A shingle roof kit is very lightweight, and we can send to remote areas of Australia at a relatively low cost.
As a result, these lightweight fixed gazebos and DIY pergola kits (18kg/m² including plywood) can replace virtually any type of cladding from metal to tiles and anything in-between.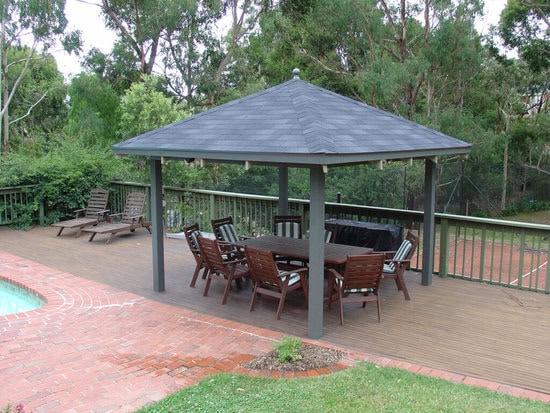 DIY Fixed Gazebo, a Covered Patio, Bali Huts & Pergola Kits
DIY roof kits are becoming increasingly popular for new homes and above all, outdoor roofs of all types. Installing a DIY kit is the perfect weekend project whether you are building a shed, a covered patio, a permanent gazebo, or a roofed pergola.
Long-lasting asphalt shingles are therefore the ideal replacement for an aging pergola roof, thinning Bali hut, patio roof, and rotting outdoor gazebo.
With absolutely no prior knowledge of installing shingles, customers are achieving brilliant results. Therefore, weekend DIY'ers can build these kits with simple tools (hammer, nails, knife, and chalk-line). The reward is either a  30 year or Lifetime International Manufacturers Warranty.
4 Part – DIY Outdoor Gazebos Kit Guide
Custom Kits Made to Order

Suppose you are still planning your new outdoor living area. In that case, there is a great little program called Blocklayer – Gazebo kits, covered patio & pergola kits Calculator. Within this program, you can adjust the measurements of your new permanent gazebo.
First of all, choose a square four-sided roof, or you can stretch it out to create a rectangular shape. Rectangular outdoor living areas can be the perfect place for long entertaining tables.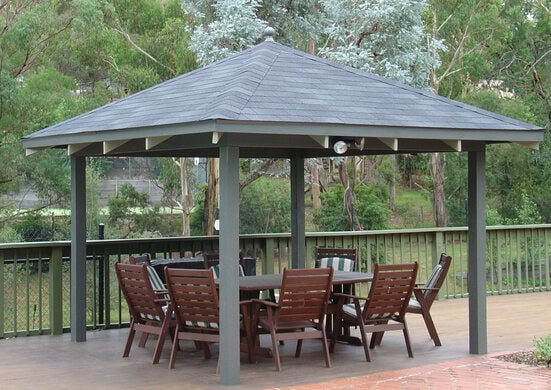 Get Ready for Long Lunches & Outdoor Dinner Parties!
Due to the easy customisation of the plans, there is no need to be limited to a 3m x 3m gazebo or 4m x 4m, etc. You can create the perfect size for your unique outdoor living area.
For a European feel, you can add a couple of sides. Voila! a fixed hexagon gazebo. In contrast, create an American fixed gazebo showpiece, an octagon fixed pavilion. Also, a covered patio or pergola roofing can provide you with the perfect place to enjoy the Australian outdoors.
Customising your Gazebo, Covered Patio or Roofed Pergola Build
You can adjust the angle of the "roof pitch" from a low slope 10-degree to a steep 45-degree. Further to this, adjusting the length, or a roof overhang is a simple process. However, be aware that low slope roofs can often have a longer overhang. Follow the instructions and be rewarded with a full and detailed set of plans.
You may need to take these plans to your local council to get the go-ahead.
These plans provide the perfect starting point for you to build your custom made dream gazebo, covered patio, or pergola kit. Take these plans and purchase your permanent gazebo, covered patio, and pergola roofing materials required to build the frame.
You can then send us the measurements of the roof, and we will work out your roof kit requirements. Finally, you can choose to do-it-yourself build option saving money, or find a local Carpenter / Handyman to complete the job.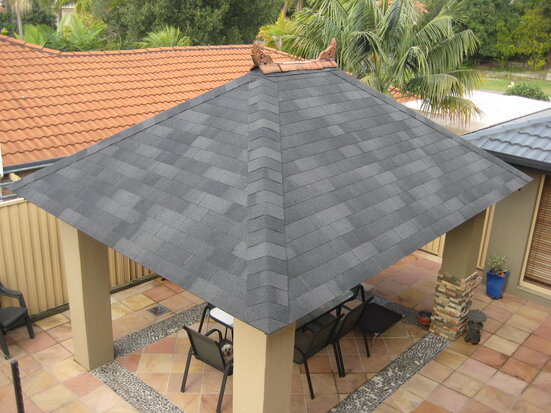 Employing a Carpenter / Handyman

Even with no experience, your local Handyman / Carpenter should be able to handle this project with relative ease. Our installation guide shows step by step DIY kit instructions which are easy to follow, and we are only a phone call away.
Due to this, you can achieve a quality roof installation with tools found in most backyard sheds – hammer, knife, chalk-line, etc.. Detailed installation steps with pictures and videos are there to help. Finally, if you are still unsure of the installation process help is only a phone call away.
Call one of our gazebo kits, covered patio, or pergola roofing specialists for advice or to supply a free no-obligation quote. Good luck with your Gazebo Kits, Patio Roof, or DIY Pergola Roofing Project.